White Dragon on 12/13/17 glowing pink more than others in certain light conditions . It could be due to a thinner leaf with a more waxy cuticle covering. There are two one-year-old grafts but enough for Metro Maples to begin propagating.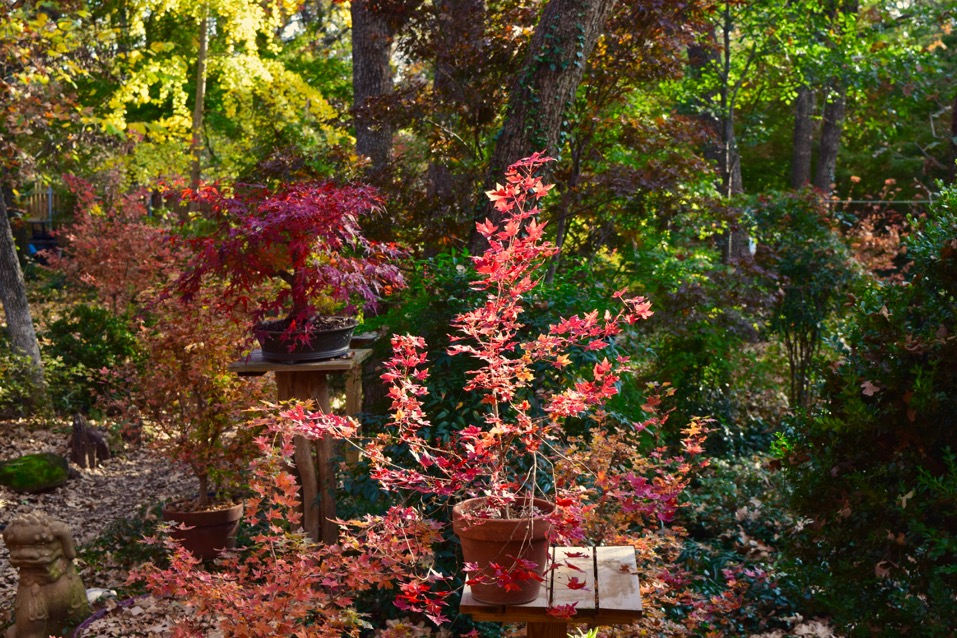 Dwarf Shandong graft of 'Happy Dragon' on December 3, 2017. Going to have Metro Maples propagate more of this one. Grafts grow much faster than the small original seedling. Later, above the graft it will be air-layered for more bonsai.
Close-up of 'Happy Dragon' dwarf Shandong maple graft on December 3, 2017. Red as my coffee cup. Normally thumbnail size leaves but the grafted ones have larger leaves, especially the summer growth leaves as shown.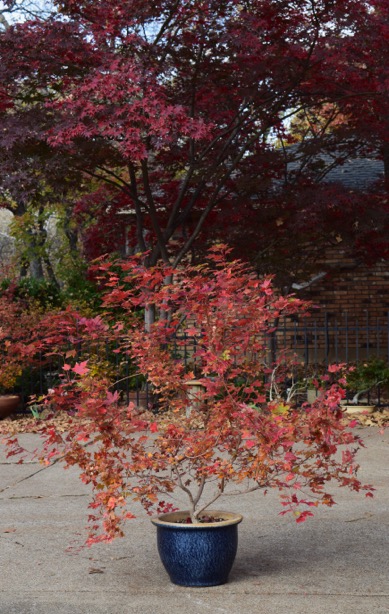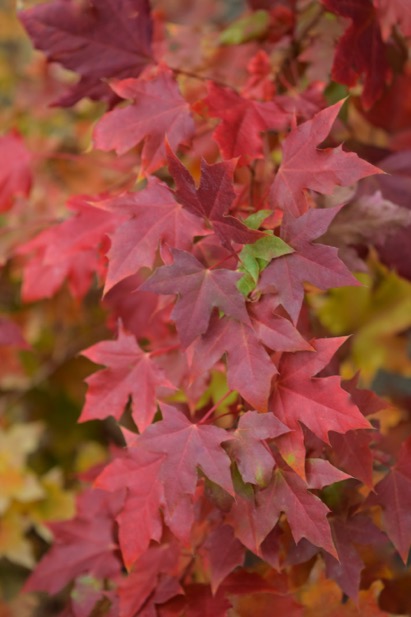 'Flower God' dwarf Shandong maple on December 3, 2017. This is a summer cutting from 2014 so it's 3 1/2 years old. It received 2 TBS Osmocote , some Calcium nitrate, and in summer some gypsum and 20-20-20 all purpose. This one was protected from the one hard December freeze and fall colors lasted for a full month.
Working on why some of the small leaves of Flower God turn mixed colors instead of all red. Usually the smallest leaves are found in the lower interior from early spring and summer growth leaves are larger. I've got 6 theories so far and have been able to eliminate some of them, but nothing explains it perfectly yet. It is most likely a combination of the size of the leaf containing less energy and the wild up and down fall temperatures in north Texas making them turn fall color too soon.
Original 'Happy Dragon' on November 15, 2017 at 8 years old. I like what I see 50 years from now as a bonsai.
Some 'Baby Dragon' TM pictures from 2017. Dwarf Shandong is a nice cascade at 8 years. Use the arrows to scroll thru.
'Sweet Spot' Shandong maple was awesome this year on November 30, 2017 when I visited Metro Maples. 15 feet tall and wide after 20 years. Unfortunately the spots have not been reproduced on grafted trees. Collected some Fire Dragon seeds too.
Dwarf Acer truncatum 'Baby Dragon' TM Shandong, or Shantung maple is making an excellent cascade bonsai. Eight years old here on November 11, 2017. It colored up early this year. It does take some effort to get the lower branches to grow as the top gets more sun. Keep the top branches from growing by pruning and it will work out just fine. Use bonsai wire to shape the branches where you want them. It is a vigorous dwarf.
Mother 'Fire Dragon' on November 30, 2017 at Metro Maples. Around 33 feet tall. The caliper at 1 foot above ground is over 13 inches now. A seedling in 1999 the red was noticed right away among hundreds of other yellow Shantung maples. First grafts were made in 2002 and sales got going in 2006 after the patent approval and after I had over 4,000 in inventory.
Flower God dwarf Shantung is now in bonsai training. Fall, first leaves in spring , summer, and a mock up of the final goal.
Mother Fire Dragon TM at Metro Maples on September 16, 2017. Trunk is over 13 inches in diameter now.
Flower God dwarf in bonsai training with new pink growth on June 16, 2017. The new growth turns more red in July.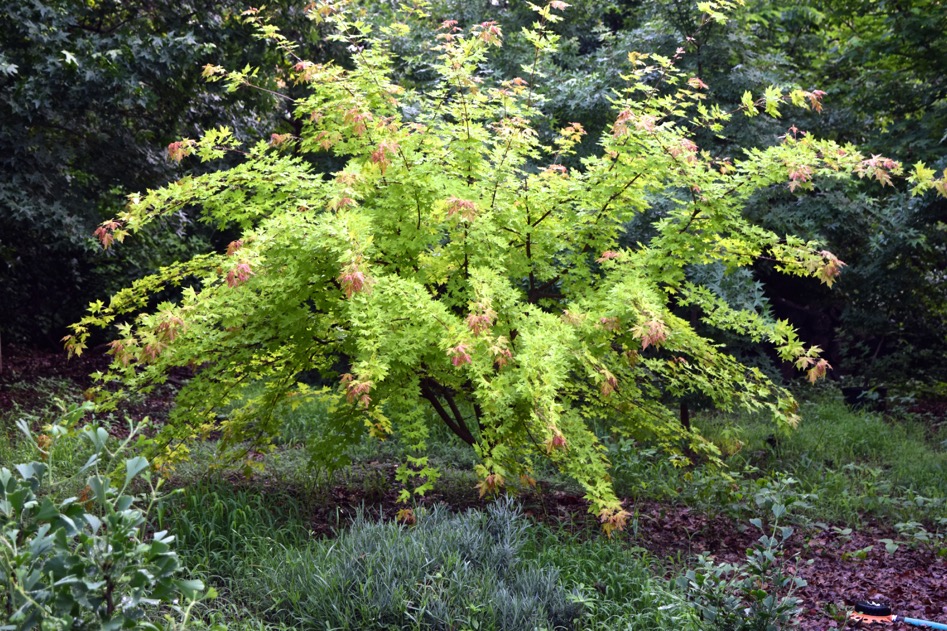 Super Dragon TM on May 8th at Metro Maples showing it's natural fountain shape and leaf color.
A big Baby Dragon in July, spreading, slightly weeping from dense leaves growing on thin branches.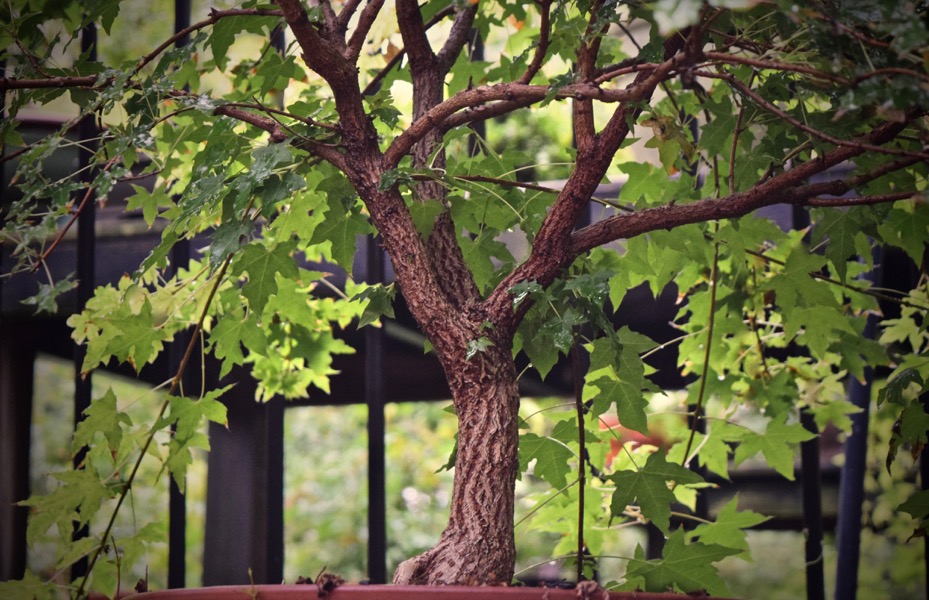 A dwarf Shandong in 2017 in bonsai training. 5 years old, 1 1/2" caliper trunk. This shape resembles its mother, Fire Dragon.
Retirement plan is to create and promote dwarfs as bonsai. TARP Dragon, Happy Dragon, Pure Fun, and Fairy Dragon.
Retirement from Metro Maples - 2016. Time to rethink my life and goals. I brought home 225 small trees in an effort to finish some Shantung maple testing, to try and get some 3rd generation seeds, to create or refine some Shantung maple bonsai, to introduce the bonsai world to dwarf Shantung, and to make my backyard full of maples with awesome beauty and complexity. Above are some of what I brought home and called this sunny area The Dragon Lair.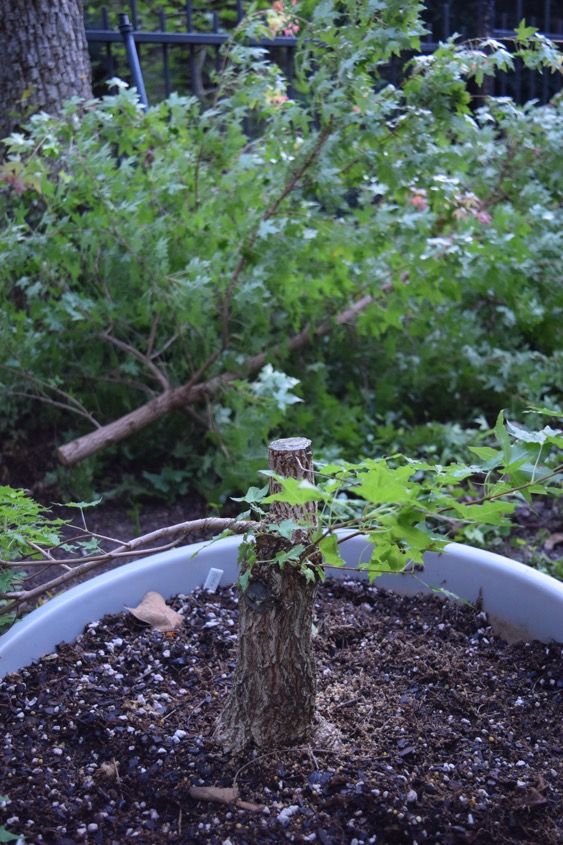 A good maple trunk for bonsai is a tapered trunk. Maples will have trunks with the thickness about the same from bottom to top unless it goes through a period of trunk chopping. This Baby Dragon was started in year 2010 and grown in the ground until November 2015 when it had a 4-5" base at the soil line and then chopped and potted in this large growing pot. The middle left trunk, where you see some grey cut paste, is almost healed up 2 years later but on July 8, 2017 I noticed the new top was getting too large and about to lose the taper so I decided I had to make the second trunk chop. Behind you see the 6 foot of tree that was cut off. It wasn't the best time to do this but it is a Baby Dragon and they will do most anything you tell them to do. Early June or February are better times to trunk chop. Japanese bonsai masters don't like maples trunk chopped as it always leaves a tiny scar but with truncatum's thicker bark that may not be the case.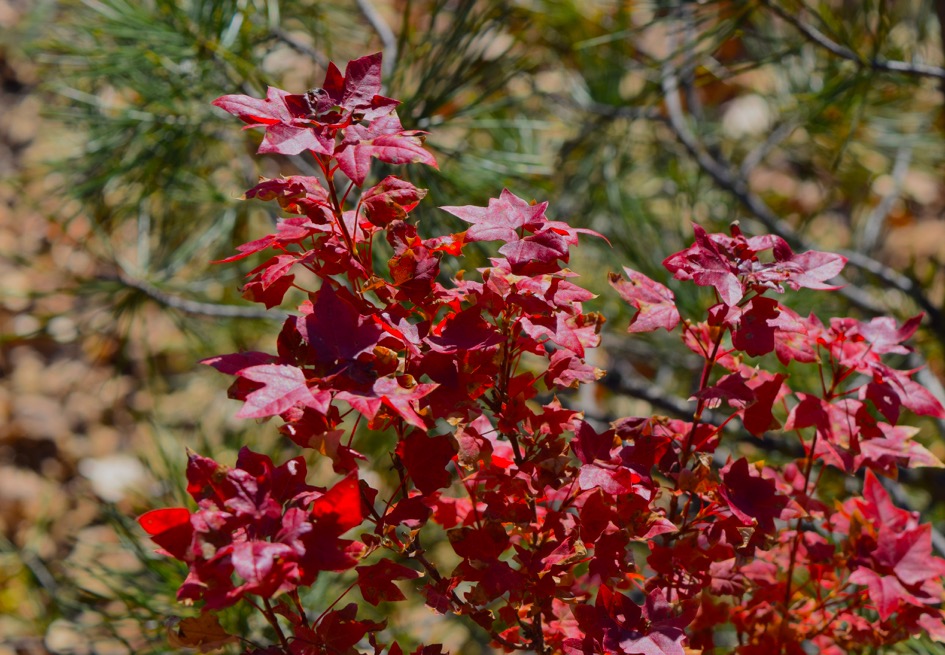 Flower God dwarf Shandong maple in December 2014. Lots of dwarfs are being studied and named. They have great potential for garden and bonsai use. Hard, yet flexible wood, small leaves, great bark, small flowers, hardy and vigorous.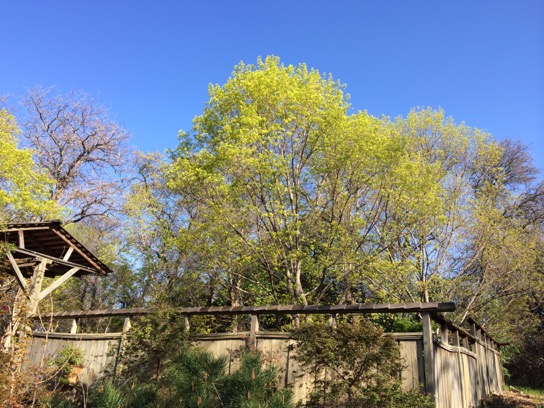 Blooms on Fire Dragon TM at Metro Maples, early spring before the leaves in 2014.
Super Dragon TM growing at Metro Maples in May 2013.
Fire Dragon at Metro Maples in a 300 gallon container in 2013.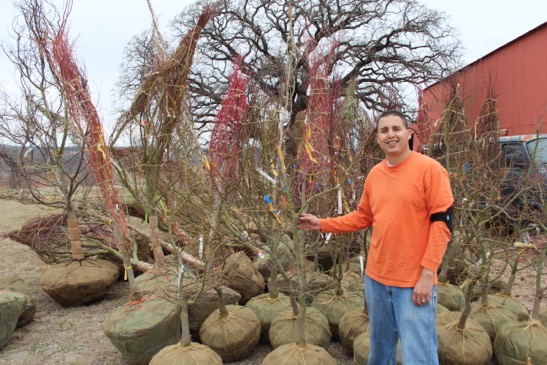 My good friend, Rene Rodgers, doesn't even looked tired after helping Scott and I unload 20 tons of maples in March 2013. His Fire Dragon turned a very nice red in the alkaline clay in Mansfield, Texas on December 12, 2016.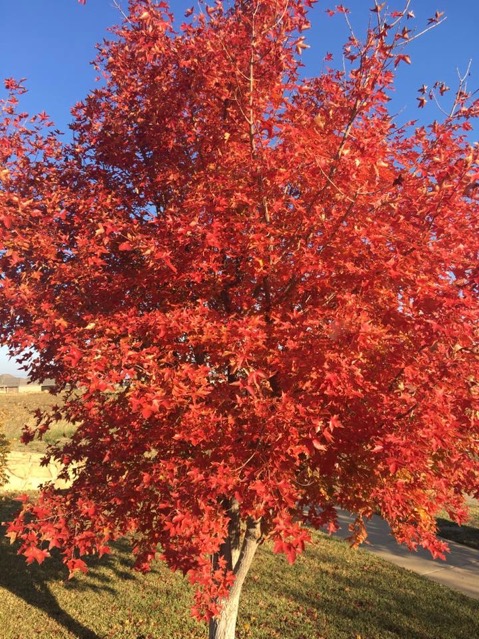 Oregon grown Fire Dragon TM at Munn's Nursery, Brooks, OR. It sells fast even among his 55 acres of Japanese maples.
November 18, 2013 and both 'Fire Dragon' TM and a yellow fall Shantung called 'Gate Dragon' were spectacular.
Super Dragon Shantung on November 23, 2012 showing it's true fall colors which it doesn't normally get to do in Texas due to the hot fall temperatures. Normally it first gets a little greener looking in early fall then turns a pastel yellow.
About 1/3 of new the 'Fire Dragon' dwarfs died in 2011 from the record heat and/or phytotoxic spider mite spray. The remaining put on a glorious fall color display that even went into the new year. I still had many to continue testing and to eventually name.
Fire Dragon TM and the end of the hottest year on record in north Texas, year 2011. This colored up in the hot, completely dry sand without any irrigation. Notice the dead juniper. All my Eastern red cedars died this year. The trees were also attacked by a gazillion spider mites and water wells went mostly dry. Average highs were 103.7 degrees with 79 days over a hundred. It was, however, the greatest victory for the Shandong maples as they battled and survived The Summer From Hell.
A fall garden of Mother Fire Dragon TM and a 2003 graft leaning out over the koi pond in year 2010.
In 2010 with 'Baby Dragon' already in production about 100 more dwarf Shantung seedlings were discovered. This time the parent was 'Fire Dragon' and the new dwarfs inherited their mother's fall color and came in at least 5 different growth habits. I have now become committed to studying new Shantung maples, especially these strange new dwarfs.
Rare Texas fog in spring 2009 in the garden that was started in 2004 and now full of maples, including mother 'Fire Dragon' TM in the top center with a Yasemin in front. There's also a Crimson Queen, Paperbark maple, Shindeshojo and Aratama Japanese maples among my Japanese azalea collection. Scott and I are challenged keeping up with the demands of growing and selling our increasingly popular trees as the financial collapse in 2008 didn't slow us down at all. We still deal wholesale and retail and are bringing in specimens from Oregon, bare root from New Zealand, and grafting 5,000 of our own each year. We have over 18,000 rare maples and azaleas in production.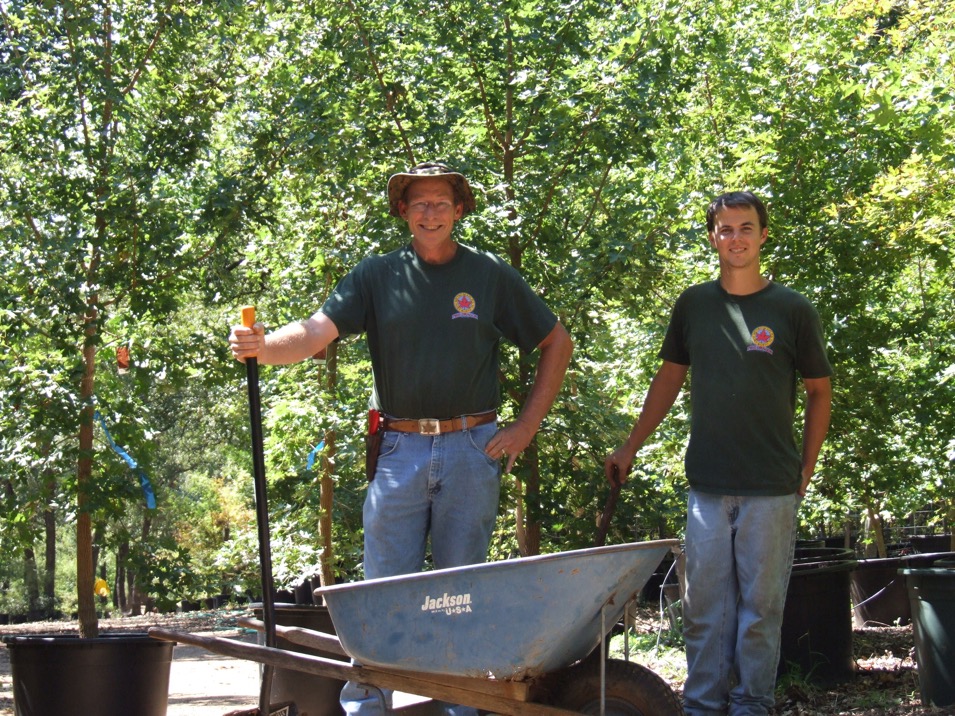 The men behind the Shandong maples, Keith Johansson (left), and Scott Hubble. We dug a couple hundred Fire Dragon in August 2008 and they were rooted out and ready to sell two months later. Unbelievably tough tree in such hot weather.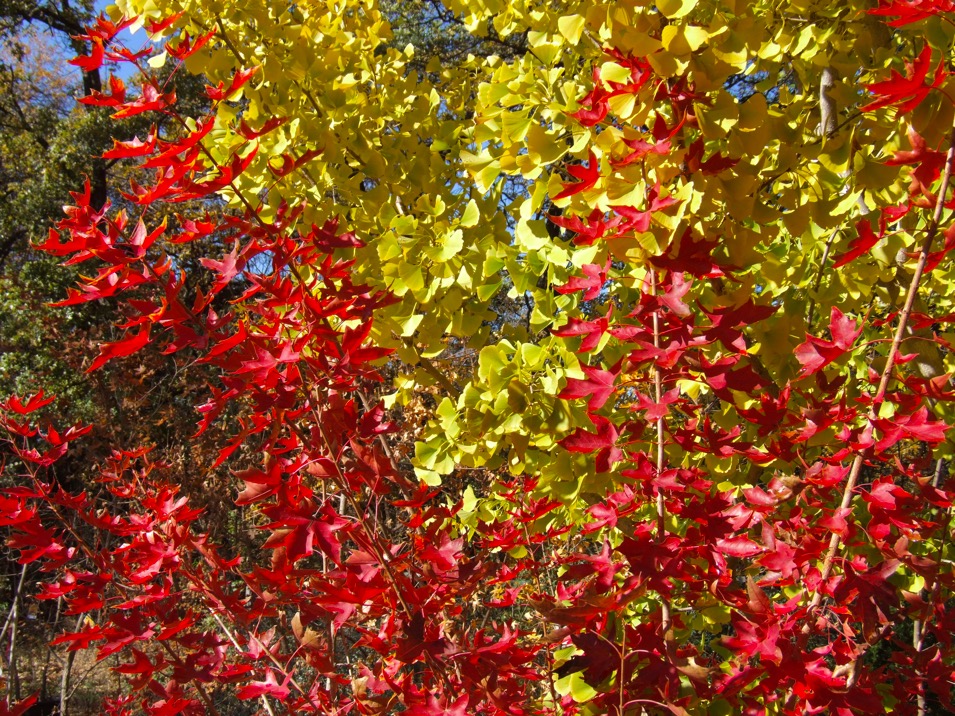 'Fire Dragon' showing its best red in the fall of a great warm and rainy year, 2007. 2004 was also a good growing year. The other years were all hot and dry and the trend seemed to peak in year 2011 in what looks like a 30 year cycle with other hot periods in Texas in the 1930's, 1950's, 1980's, and 2000's. Ginkgo Autumn Gold reached peak yellow color the following day.
My very good gardening friend, Sue Mohr, Clinton, Arkansas, received one of the first Fire Dragon in the fall of 2006. We were in the Ozark Chapter of The American Rhododendron Society and she taught me a lot about growing plants. The photo on the right is Fire Dragon in June of the following year showing zero damage after a tremendous late freeze that damaged trees from Oklahoma to North Carolina. This freeze destroyed 2 to 3 years of native tree growth but Fire Dragon didn't even lose a leaf. The ultimate hardiness test. People and plants like this will make you fall in love with them.
Adding high nitrogen fertilizer to Baby Dragon TM with warm temperatures makes for bright color in the new growth.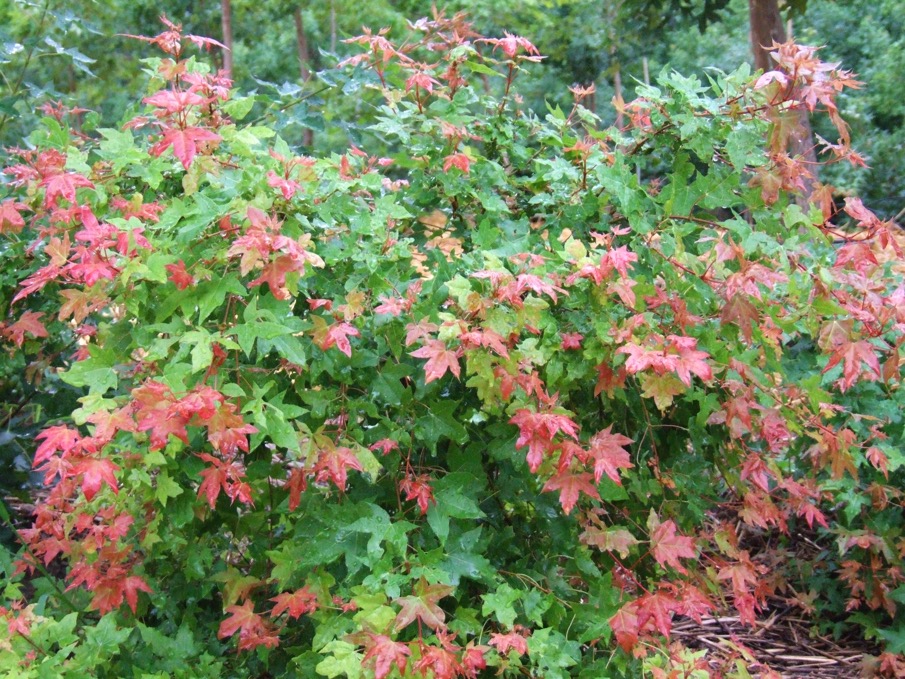 Baby Dragon TM had sat around for years in the shade for ease of maintenance but once the grafted clones were put out into the full sun with July rain like in 2010, the striking new pink growth became quite apparent.
'Baby Dragon' TM has thumbnail sized leaves and can take all day Texas sun but was planted in the shady garden and ignored for many years. This photo from June 2007 shows it at 14 years old. Propagation began in year 2009 after 2 years of rapidly increasing Fire Dragon TM sales.
Besides propagating a lot of Fire Dragon in 2007 a little plant known as Dwarf Golden Dragon was getting attention. Shown above in spring 2007 compared to the famous Golden Fullmoon Maple, A. shirawsawanum 'Aureum'. Dwarf Golden Dragon was later to become the patented 'Super Dragon' TM.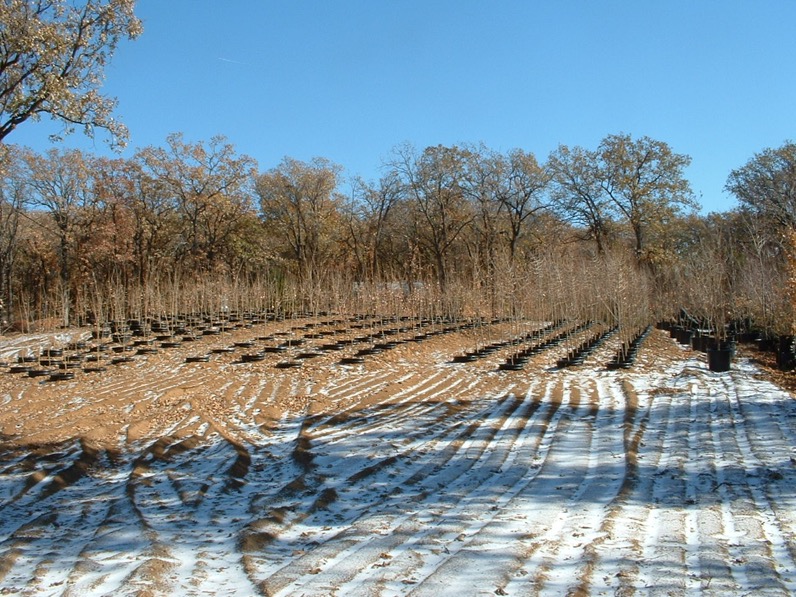 Decemeber 2005 the 15 foot high mound named the Maple Knoll was created with a bulldozer with top soil from a pond that was made. It is a pot in pot system that holds 400 15 gallon trees. Roy Gallegos is a great volunteer Saturday sales helper and also helped during a week in May when we installed 4,000 spitters in this area to grow Shantung maples. Spitters are similar to a drip system but spitters spray out water over the entire soil surface.
Fire Dragon TM in year 2004 was planted and a fenced garden was started. If it doesn't seem that big it's because in 2002 and 2003 I cut off every twig for propagating new ones which slowed down the growth quite a bit. All the twigs I could graft in 2002 was only 65 trees. In 2003 it was 400 trees but after that it was 1,000 trees or as many as I wanted. Fall color was orangish-red that year but very bright.
Welcome to the Shandong maple blog. I'd like to start with the first picture of the first Shandong maple cultivar, 'Fire Dragon' TM, taken way back in the fall of 2001 at Metro Maples, Fort Worth, Texas. Metro Maples began in 1994 and my first web site was built by me in year 2001 in the very early beginnings of the world wide web. It was so exciting to find this special tree among thousands of others that I'd grown and as you'll see it changed my life.